History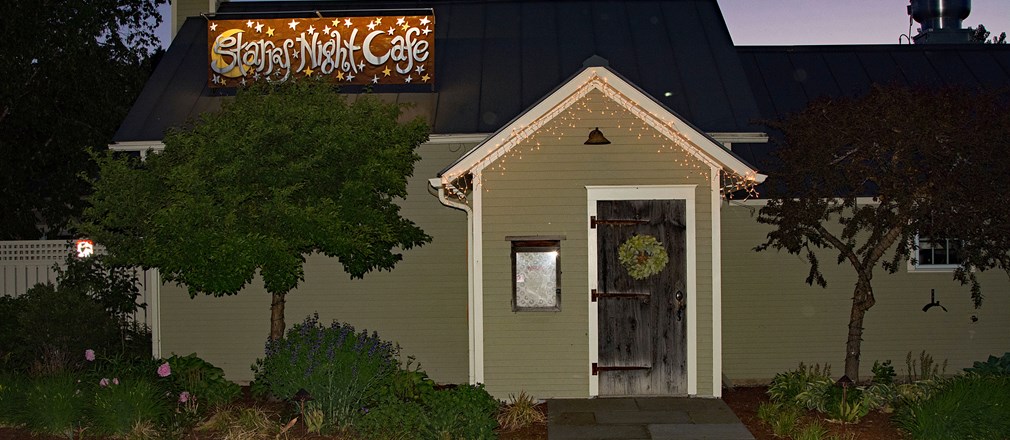 Starry Night Café opened its doors in May of 2000. It is situated within a collection of historic buildings, including a covered bridge, in a lovely countryside setting. The building housing the restaurant was originally a cider press that was relocated to the site from southern Vermont and renovated to form what is now the front dining room with its antique bar. The vision blends art and food by utilizing artisan products such as hand-blown glasses, napkin rings and plates. The wooden tables and unusual bar stools were hand-made by local craftsmen. The wooden leaves decorating the framework of the bar each depict the leaf of the tree from which it was carved. Locally blown glass orbs fill candelabras illuminating the room with elegance.
Starry Night's spacious octagonal dining room with picturesque views of the grounds was added in 2001 and quickly became a favorite space for intimate dining as well as larger private events. In the late Fall of 2013 Starry Night Cafe came under the exciting new ownership of Mark & Molly Valade, setting the stage for a huge upgrade in the Spring of 2014 (see Renovations) including full renovation of the kitchen, the addition of the Fireplace Room, and extensive enhancements to the grounds. At the heart of it all, the Starry Night staff, run by Chef Josh Krechel, partners in vision and passion with the new owners to create one of the most exceptional dining venues in Vermont. From the innovative menu featuring fresh local products to uniquely crafted cocktails, hand-picked local flowers, a rotating showcase of Vermont artists and a superb staff, Starry Night Cafe brings you an extraordinary experience.
Food & Philosophy
Starry Night Cafe offers an inspiring menu using seasonal Vermont products, organically grown when available, and naturally raised meats and fish. We at Starry Night are proud to partner with incredible local farmers and producers. Above all we strive to provide a wonderful dining experience capturing the terrior of our rural Vermont setting.
Chef Josh Krechel
Chef Josh Krechel grew up in New Jersey and at an early age became fascinated with cooking. After graduating from the Culinary Institute of America in Hyde Park, New York, he moved to Vermont to join the staff at The Inn at Shelburne Farms. He followed The Farms' former head chef to Starry Night, eventually taking the reins as head chef. Chef Krechel brings a creative and unique touch to his cuisine, always embracing the seasonality of fresh local products.